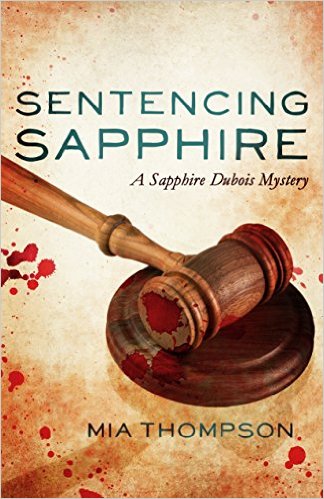 I had the opportunity to sit down with Author Mia Thompson recently. Mia is a Swedish-born author living in Sacramento, California. Her international bestsellers,
Stalking Sapphire
and
Silencing Sapphire
, were published in 2013, and followed by the third book in the series,
Sentencing Sapphire
.
Hi, Mia. Thank you for agreeing to chat with me again, after I kicked you out of my house
last time we spoke
. Here's a nice hot cup of coffee and an apple turnover to warm your bones.
Mia: I'm not going to lie, Sue, I was traumatized. Though, the coffee and apple turnover might help heal the emotional wound.
Sue: We both write crime thrillers and mysteries. What first attracted you to the genre?
Mia: The genre kind of snuck up on me (pun intended.) I was writing, what I thought was, an action-comedy script when I lived in L.A. After I brought it to my writing group, one of them said "Oh, it's like a mystery/thriller."
"Yeah, totally," I nodded. In my mind I was like,
I can write mysteries?
It took on a life of its own from there.
Sue: When a rude person gets under your skin in public, how do you handle it? Do you secretly devise ways to kill them?
Mia: Why, what have you heard? No… but it just so happens that my day job is a place where a lot of people tell me they hate me. I've developed a pretty thick skin, but when I don't feel up for it, I stare at the rude person with this blank expression. You'd be amazed at how uncomfortable a consistent blank stare makes people. The longer you stare, the more they start backtracking, sometimes toward an apology. Try it. It's fun!
Sue: In our genre it isn't "write what you know" but "write what you want to know." After all, not many of us have investigated a murder or done an autopsy. Was there much research involved for your books? If so, what did you find most interesting about what you learned?
Mia: I shouldn't say this…but I find most procedural research so story-crippling I often take shortcuts. I recently had to research court procedures, and it nearly killed me. I tried to stay as close as I could to reality, but, man, reality is
boring
.
On the upside, I now know how bodies decompose, how to pick a lock (in theory) and how to choke someone out (in theory).
Sue: What author had a profound effect on you, and why?
Mia: Besides Astrid Lindgren's books (must-reads in Sweden), the first book I remember being blown away by as a kid was Roald Dahl's
Witches
. It was the first time I comprehended that words, written in a certain manner, had the ability to create fear, joy, tension, and relief.
Witches
still pops into my mind when I write tension-scenes and I try to match it. Fingers crossed, any day now…
Sue: It seems everyone on social media loves animals. Are you a cat or dog person, and why?
Mia: I grew up with cats, and I have a dog now, but I'm an all around animal person. Not a: Google-funny-cat-videos type of animal person, but more of a: if-no-more-animals-suffered-I'd-die-a-happy-person person. (Note from Sue: Do you see why I love her?)
Sue: What book do you secretly wish you wrote? Not counting Silence of the Lambs, because don't we all wish we wrote that?
Mia: I really wish I wrote Helen Fielding's last Bridget Jones book. If only just to rewrite a certain shocking plotline and un-break hearts all over the world. That said…
Hello, Clarice
.
Sue: I'm a member of MWA and Sisters in Crime, and love both organizations. What organizations are you involved with and have you found them beneficial?
Mia: Excellent question. Terrible answer. I'm a member of some NA and Mystery organizations, but I have, however, never participated. I think I said,
hello
once when first joining, but that's it. I know, I suck. Feel free to throw me out of your house again.
Sue: Before we met I read Stalking Sapphire, and really enjoyed it. Can you tell us about book three? Where can we purchase/reserve a copy?
Mia: SENTENCING SAPPHIRE came out through Diversion Books on Oct. 6
th
, 2015, and you can order it, or its predecessors
HERE
.
Sapphire Dubois is back in the follow-up to the international bestsellers STALKING SAPPHIRE and SILENCING SAPPHIRE, fighting her most grueling serial killer yet. A summer has passed since the catastrophe at the country club. Heiress and vigilante Sapphire Dubois has escaped to Paris, where she has shed her rich persona and lives as the infamous Serial Catcher. When the handsome Detective Aston Ridder tracks her down, Sapphire returns home to find Beverly Hills in chaos. A new vigilante has taken over Sapphire's old job, and will stop at nothing to get her predecessor out of the way.
Meanwhile, a man with dark intentions and a deceiving smile has nestled his way into the rich community and is killing off heiresses. It doesn't take long before Sapphire finds that this man, the next killer she has to catch, is none other than her estranged father. Already plagued by sickening memories, Sapphire is pushed to the limit when her father initiates a deranged game that threatens both her sanity and the lives of everyone around her. While Aston struggles to keep the woman he loves from drowning in her father's madness, Sapphire battles to outwit her merciless opponents before time runs out and more innocent blood is spilled.
It was lovely having you here. Thanks, Mia!